Cooking with Beer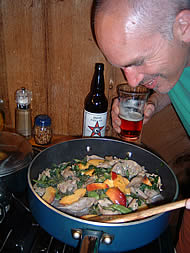 Greg getting the first sniff of our Londonderry Farmers' Market stir-fry and figuring out how much heat to add to pair it with Cisco's IPA.
We love cooking so we plan to share some of our favorite recipes. Here is one that will inspire a visit to your local farmers market. Pair with a beverage that matches the spice level you desire. If it's spicy hot, pair with an IPA; if you opt out of the hot stuff go for a pale ale, we suggest some from Nantucket's Cisco. Enjoy!
Stir Fry with Fruit
1 Tbs vegetable oil
4 garlic scapes, chopped
1 small red chili pepper, seeded & chopped (optional)
1 lb meat
1 bunch greens, shredded big
3 Tbs soy sauce
2 tsp lemon or lime juice
2 Tbs lambic style beer: Magic Hat #9 (apricot)
2 Tbs broth
2 firm nectarines or peaches pitted & sliced

Preparation
In a wok or large fry pan over medium-high heat, warm oil. Add garlic and chili pepper and stir-fry until aromatic, about 1 minute. Add meat and greens and stir-fry until meat changes color, 3-4 minutes. Add soy sauce, juice, broth and fruit and cook until heated through, 1-2 minutes.

Serve hot, accompanied with cooked rice.
Serves 4-6 very light eaters.
Special Note
We went to our local farmers market in Londonderry and came home with a wonderful bounty to make a banquet meal fit for a king and so we made this dish. For the meat we used the quail legs from Cavendish Game Birds, garlic scapes from Mansfield Farm, greens ( kale, Swiss chard) from Clearbrook Farm and more greens (bok choy) from Anjali Farm.

The original recipe called for pork as the meat, regular mashed garlic along with choy sum for the greens and kaffir limes leaves which I am pretty sure have never crossed the boarder into Vermont so I made due with something else as always!
Official Recipe
The original recipe was Pork and Nectarine Stir-Fry from
The Essential Kitchen - Wok by Vicki Liley