Cooking with Beer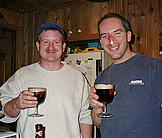 Erik from former
Sherrie's Cafe
sharing a Chimay with Greg at an Oktoberfest Party.
We love cooking so we plan to share some of our favorite recipes. Here is one that uses some delicious local Macintosh apples from Champlain Orchards in Shoreham, VT and Long Trail Ale from Bridgewater Corners, VT - Enjoy!
Chicken Bridgewater
4 tablespoons all-purpose flour
2 teaspoon dried thyme, crumbled
2 whole skinless boneless chicken breasts, halved length wise
3 tablespoons oil - peanut, butter, bacon grease
3/4 cup Long Trail Ale
1/2 cup thinly sliced mushrooms
1/2 cup chopped pecans
2 apples sliced peeled - Macintosh
1 tablespoon finely chopped shallot
1 cup apple cider
1 cup milk - 2% to heavy cream

In a bowl combine the flour and the thyme and in the mixture dredge the chicken, shaking off the excess. Add cider to remaining flour mixture and stir a few time before you add it later. In a skillet heat the oil over moderate heat until it is hot but not smoking and in it cook the chicken until it is browned lightly, approximately 2 to 3 minutes on each side. Add the Long Trail, deglaze the skillet, scraping up any brown bits, and boil the mixture for 2 minutes. Stir in the mushrooms, pecans, apples, and the shallot and cook the mixture for 2 minutes. Add the apple cider and the milk and cook the mixture for 2 to 3 minutes, or until the sauce is thickened slightly and the chicken is just cooked through. Serve over egg noodles and spoon the sauce over it. Serves 4.

Official Recipe
The original recipe was from the February 1990 issue of Gourmet Magazine now available online at www.epicuriouse.com. It was called Chicken Normandy Winthrow and was made with brandy rather than beer.

Beer Pairing
Enjoy with a beer similar to what you make it with or a notch or two up on the flavor scale. Greg enjoyed it with the remaining Long Trail Ale and I would pair it with a nice brown like Long Trail's Harvest.