Cooking with Beer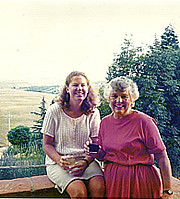 Enjoying some of the local beverages in
Tuscany with Mom @ 1995.
We love cooking so we plan to share some of our favorite recipes. Here is another one of my mom's recipes that I loved as a kid and have revamped a bit. Enjoy!
Soft Ginger Cookies
1 cup white sugar
1 cup shortening
2 eggs
1 cup dark maple syrup
1/2 cup stout
2 cups wheat flour
1 1/2 cups flour
1 tsp each: cinnamon, cloves & ginger
2 tsp baking soda
Preparation
Cream together sugar, shortening & eggs. Mix in maple syrup and stout then dry ingredients. Drop by teaspoon onto a greased cookie sheet. Bake at 350 for 8-10 minutes. Sprinkle with powdered sugar.
Official Recipe
The original recipe called for cold coffee instead of beer. I made it with Harpoon's Chocolate Stout and they were very tasty. I suggest trying it with a coffee stout or a spiced winter brew. I also swapped out some white flour for wheat hoping to compensate for the shortening. Not sure how you'd make a soft cookie without Crisco. Any ideas? Let Pat know.