Cooking with Beer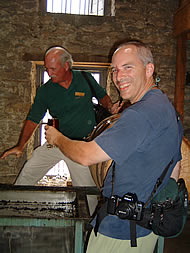 Greg getting the first sample of bourbon on a tour of Woodford Reserve during our trip to Kentucky in 2005.
We love cooking so we plan to share some of our favorite recipes. Here is one that will get you get you through a bad weather day with a little comfort food. Pair with a beverage that matches the weather. If it's just a grey day have it with an ale but if it's really stormy all day have a stout. Enjoy!
Ale Braised Meatballs
1 6-ounce piece day-old French bread (generous 1/3 of 16-ounce loaf), crust left on, bread cut into 8 pieces
1 cup whole milk
1 3/4 pounds ground beef (7% to 15% fat)
2 large eggs
1 medium onion, finely chopped
1/2 cup plus 1 tablespoon chopped fresh Italian parsley
2 teaspoons salt
1 teaspoon ground black pepper
1 teaspoon dried summer savory

All purpose flour
2 tablespoons (1/4 stick) butter
2 teaspoons bacon grease
16 oz can beef broth
16 oz apple cider (use broth can to measure)
16 oz ale such as Long Trail
1/4 cup tomato paste or catsup
Preparation
Preheat oven to 350°F. Combine bread pieces and whole milk in medium bowl, pressing on bread to submerge; let stand until milk is absorbed, about 10 minutes. Squeeze out most of milk from bread; discard milk. Place bread in large bowl. Add ground beef, eggs, finely chopped onion, 1/2 cup chopped Italian parsley, salt, pepper, and dried summer savory and mix well. Squish with mixture with your hands to mix completely. This is something the kids will love to help with and the dog will help clean your hands! Form mixture into 1 3/4-inch-diameter meatballs (about 30). Divide meatballs between two 13x9x2-inch glass baking dishes. Bake meatballs 30 minutes. Set meatballs aside.
Dust meatballs with flour; shake off excess. Melt butter with oil in heavy large skillet over medium-high heat. Working in batches, add meatballs to skillet and sauté until brown on all sides, about 3 minutes. To save time you can skip browning, you will just have a lighter gravy. Return all meatballs to skillet. Whisk beer, broth and tomato paste in small bowl to blend. Add mixture to meatballs and bring to boil. Continue boiling until sauce thickens slightly, stirring frequently, about 5 minutes. Reduce heat to medium and simmer until flavors blend and gravy thickens, stirring frequently, about 15 minutes. Season to taste with salt and pepper. Transfer meatballs and gravy to bowl. Sprinkle with remaining 1 tablespoon parsley and serve with egg noodles.
Special Note
You can hide a lot of things in meatballs that your family will never suspect and won't mind if they find out the secret ingredients. My favorite is kale! I often use it or Swiss chard instead of parsley. Some other ingredients that mix the flavors up a bit are finely chopped bacon or mushrooms. If you want a heartier meal use darker bread and/or beer.
Official Recipe
The original recipe was Braised Meatballs in Red-Wine Gravy from
Bon Appétit, February 2001