Cooking with Beer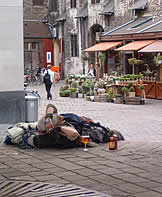 Having the right glass is VERY important in Belgium even if you are a bum passed out on the street in Brugge. And no, that's not Greg!
We love beer and cooking so we plan to share some of our favorite recipes. This one is from our trip to Belgium in 2007. We have ordered some Orval. It is a special treat so you may want to substitute one beer. Enjoy!
Mussels Cooked with Orval Beer
2 bottles Orval beer
4 kg mussels
5 sticks celery
1 carrot
1 onion
pepper

- Wash mussels. Chop celery, carrot & onion. Place vegies in saucepan. Pour in one beer. Recerve other beer for chef. Season with pepper & friends. Bring to a boil & cook on medium for 5 minutes with music. Add mussels & raise heat & increase volume. Shake the pan twice & dance. Repeat till full, tired & happy.