Cooking with Beer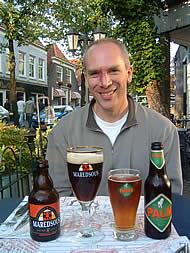 Greg on the start of our beer tour in Delft.
It was a long day considering you can
see the hotel in the background!
We love cooking so we plan to share some of our favorite recipes. Here is one that will get you in the mood for summer. If it is hot pair with a crisp, cold hefeweizen or if it still feels a bit like winter pair with a full flavored, rich bock. Enjoy!
Ale-Burgers
2lb. lean ground beef
1/2 cup finely crumbled stale rye bread with the crust removed
1/2 cup Ale
1 medium-sized onion, finely chopped
1/2 crushed caraway seeds
salt & pepper
Soak the rye bread in the ale. Blend the beef with the soaked bread and then mix in all the other ingredients. Shape the mixture into patties and let stand for at least 1 hour. The patties can be grilled, broiled or fried in a skillet.
Special Note
If you are modifying the amount of meat to accommodate the number of diners be sure to also alter the amount of ale. If raw onions aren't your thing you can saute them in a pan and add the ale and bread at the very end when they are cooked to your liking.
We made it with Mimi's home baked rye bread from Taylor Farm. Did you know that her anadama bread makes the best French toast? Oh... and they make some really good cheese too! Their traditional and maple smoke is available at our store.
Official Recipe
From Time/Life: The Good Cook Beef & Veal Cookbook.