Cooking with Beer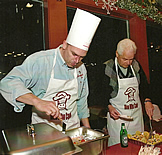 The guys cooking up a storm at the original event called
Men Who Cook
. Now it has morphed into
The Taste of Vermont.
This event by any name is incredible and should not be missed.
We love cooking so we plan to share some of our favorite recipes. Here is one that we made to serve at the 2013 Taste of Vermont at Stratton. It is our favorite fundraising event for the Stratton Foundation and the food is incredible - Enjoy!
Waterzooi
2 Tbs butter
1/2 Tbs olive oil
2 pds chicken breasts, boned & chopped
3 large shallots chopped
2 large leeks sliced
1 large fennel bulb
2 carrots
2 celery stalks
4 pototoes cubed
4 cups chicken stock
1 cup tripel or strong golden ale
2 bay leaves
1 Tbs thyme leaves
1 cup milk
2 Tbs mayonaise

Put butter and olive oil in a stockpot and place over medium heat until the butter bubbles. Add chicken and stir. Let chicken brown. Reduce heat to low and add shallots; cook 3 minutes.
Add sliced leeks and fennel and cook 3 minutes or until leeks turn soft. Add carrots, celery, potatoes, cream and bring mixture to a simmer. Cover and cook 25 minutes or until chicken is cooked through and vegetables are tender. Stir in mayonaise to thicken stew. Do not bring to a boil, just a light simmer. Remove bay leaves before serving.
Official Recipe
The original recipe was from Lucy Saunder cook book The Best of American Beer & Food. The dish has its origins in Brugge and was made with fish.

Beer Pairing
Lucy recommends pairing it with a tripel-style or strong golden ale. Pat says anything Belgian!