Cooking with Beer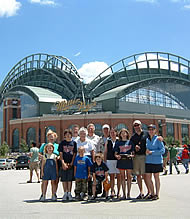 Red Sox fans visiting Twins fans at a Brewers game - who do we cheer for now? And of course all while enjoying some great mid-western beer. That New Glarus is so good it makes you think about moving there!
We love cooking so we plan to share some of our favorite recipes. Here is one inspired by the season. This goes well with so many beers, Oktoberfest, cherry lambic, spiced nut brown or even a cider. You might need to make two cakes to find the perfect match! Enjoy!
Apple Cake
4 cups diced apples
2 eggs, beaten
2 cups sugar (1 1/2 if cutting back)
2 tsp cinnamon
1 tsp salt
2 tsp baking soda
2 cups flour
1/2 cup Oktoberfest beer
Preparation
Mix ingredients together in one bowl. Bake in a greased 9X13 pan for 35-45 minutes at 350. Serve with whipped cream, preferable home made.
Special Note
This recipe is one from my childhood in Minnesota with a little modification. I swapped some good Harpoon Oktoberfest beer for oil and greased the pan instead. It tasted just as I remember except I didn't make the yummy whipped cream that my mom always did. Next time.
I highly recommend trying apples from trees you find around your neighborhood rather than from the store. Don't worry about the blemishes, you will be surprised how good they taste once you peal off the skin. We get ours from just down the road.
Official Recipe
The original recipe was called Karen's Apple Cake and my mom found it in the local paper; the Gazette, sometime in the 60's. Not sure who Karen was but she must have been a great cook.