Cooking with Beer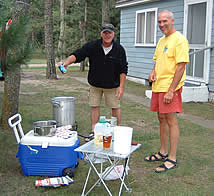 Pat's brother John and Greg sneaking her sister Mary's beer to cook with at Lake Hubert, MN.
We love beer and cooking so we plan to share some of our favorite recipes. Growing up in Minnesota my dad always made brats in beer. Greg has received some kielbasa from North Country Smoke House. So here is the original method that Tom used and a newer version to use the great sausage we have in stock. Enjoy!
Tom's Brats in Beer
Slice onions. In a large stock pot sauté onions in butter. Once they are nice and brown add a few bottles or cans of beer. Then grill sausages. This is a great recipe for beginner grillers because you can burn the meat and it doesn't matter; actually I think it taste better. Once the brats are done put them in the pot with the beer and onions and let them simmer for a while. The longer it simmers the more the flavors blend. Serve on a whole grain hot dog bun with good mustard and some of the onions strained from the pot. Ahh summer....
Quick Choucroute Garnie
1/2 pd Bacon cut in 1/4" pieces
1 Onion sliced
1 Cabbage sliced
2 Carrots pealed & sliced
2 c Chicken broth
2 c Beer - lighter flavored
1-2 Tbs Caraway seeds
2+ Tbs Gin
Cooked meat - kielbasa, pork, brats
In a large stock pot sauté bacon slightly then add onions til lightly brown. Then add everything else and cook in oven for a while. Serve with egg noodles.
Official Recipe
From North Country Smoke House. I confess, I haven't made this one. I use the one from The Gourmet Cookbook. We have made it several times for a German buffet that was auctioned off for the Stratton Foundation's Men Who Cook event.