Cooking with Beer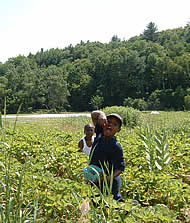 Our favorite
Fresh Air
kids, Kyle & Saquan picking strawberries at Dutton Farm in Newfane.
We love cooking so we plan to share some of our favorite recipes. Here is one to celebrate summer and berry season. It is fun to make for kids because when they look at me curiously when I say they are bear bars, I always ask them "What do bears eat?"
Enjoy!
Bear Bars
1/4 cup fruity or sweet brown ale*
2 Tbs cornstarch
1 1/2 cups sugar
4 cups mixed berries &/or rhubarb diced
1 tsp vanilla
Cook the first four ingredients in a sauce pan. The more you cook it the less fruit chunks there will be. Add vanilla when it cools a bit.
1 1/2 cups oatmeal
1 1/2 cups flour
1/2 tsp baking soda
1 cup brown sugar
1/2 cup chopped nuts
1 cup butter
Mix and crumble mixture. Lightly pat 3/4 of it into a 9X13 pan. Cover with cooled berry mixture. Sprinkle with remaining crumbs. Bake at 350 for 30-35 minutes. Serve plain or topped with ice cream or yogurt.
Official Recipe
From my mom whose friend Carolyn had an incredible patch of rhubarb. This was one of my favorite early summer desserts as a kid. Of course my mother made it with only rhubarb and water instead of beer.

Beer Pairing
Enjoy with a beer similar to what you make it with or a notch or two up on the flavor scale. You may think that stouts and porters are only for winter time but they are great for summer too!
*The alcohol cooks off during baking.