Cooking with Beer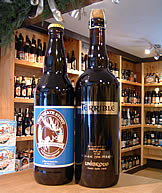 Chocolate Stout from Northshire Brewery in Bennington, VT and Terrible Belgian Strong Ale from Unibroue in Chambly, Québec
We love cooking so we plan to share some of our favorite recipes. Here is one that uses a chocolate stout to make a mole style sauce. We used the Northshire's from right down the road in Bennington, VT - Enjoy!
Chicken and Green Olive Enchiladas
1 4 1/2-pound chicken, quartered
4 14 1/2-ounce cans low-salt chicken broth
8 tablespoons (about) olive oil
2 cups finely chopped onions
3 tablespoons chopped garlic
1 teaspoon dried oregano
1 teaspoon ground cumin
1/4 teaspoon ground cinnamon
5 tablespoons hot Mexican-style chili powder
3 tablespoons all purpose flour
¼ cup chocolate stout
1 tablespoon maple syrup
16 5- to 6-inch corn tortillas
1 pound Monterey Jack cheese, coarsely grated (about 4 1/2 cups)
1 cup drained pimiento-stuffed green olives, sliced

Place chicken and broth in heavy large pot. Bring to boil. Reduce heat to medium-low, partially cover pot and simmer until chicken is cooked, about 30 minutes. Cool chicken in broth. Strain broth and spoon off fat; reserve broth. Remove chicken skin and bones; discard. Shred chicken coarsely; transfer to large bowl.
Heat 3 tablespoons oil in large saucepan over medium-low heat. Add 1 cup onion, garlic, oregano, cumin and cinnamon. Cover. Cook until onion is almost tender, stirring occasionally, about 10 minutes. Mix in chili powder and flour; stir 3 minutes. Gradually whisk in 4 1/2 cups broth. Increase heat to medium-high. Boil until reduced to 3 cups, stirring occasionally, about 35 minutes. Remove from heat. Whisk in chocolate stout and maple syrup; season with salt and pepper. Cool.
Heat 1 tablespoon oil in medium skillet over medium heat. Add 1 tortilla and cook until just pliable, about 20 seconds per side. Transfer to paper-towel-lined baking sheet. Repeat with remaining tortillas, adding oil as needed.
Spread 1/3 cup sauce in each of two 13 x 9 x 2-inch glass baking dishes. Mix 1 cup sauce into chicken. Arrange 8 tortillas on work surface. Spoon 3 tablespoons cheese, 1 tablespoon olives, 1 tablespoon onion and 1/4 cup chicken over center of each. Roll up tortillas. Arrange seam side down in 1 prepared dish. Repeat with remaining tortillas, 1 1/2 cups cheese, olives, onion and chicken. (Can be made 1 day ahead. Cover sauce and enchiladas separately; chill.)
Preheat oven to 375°F. Top enchiladas with remaining sauce, then sprinkle with remaining cheese. Cover with foil; bake 20 minutes (30 minutes if chilled). Remove foil and bake until sauce bubbles, about 10 minutes. Let stand 10 minutes.

Make it Healthier or Quicker or MN Mild
To soften the tortillas you can always put them in the microwave for a few seconds - no oil needed. You can also make it quicker using leftover chicken or canned. For Pat's Minnesota palate we tone it down a bit and only use 2 tablespoons of chili powder and if that's not enough to cool the heat we throw some cottage cheese in it.

Official Recipe
The original recipe was from www.epicuriouse.com and called for 1/2 oz semisweet chocolate instead of the stout and maple syrup.

Beer Pairing
This dish can go different ways for pairing. IPAs traditionally pair well with spicy foods. But we paired it with Unibroue's Terrible and the dark rich flavors of the Belgian strong ale paired perfectly with the mole sauce.