Cooking with Beer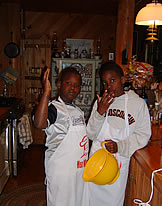 Our favorite
Fresh Air
kids, Kyle & Saquan cooking up a storm. Congrats go out to Kyle who graduated from high school with a 3.94 GPA!!!
We love cooking so we plan to share some of our favorite recipes. Here is one to get you throught the dog days of summer and the on slot of zucchinis from the garden. We had a volunteer squash in our garden that we let grow until I realized it was some mongrel of a gourd that didn't seam worth eating and was on its way to taking over the apple tree so I decided to whack the whole thing. I clipped the blossoms for stuffing and that started the night of frying everything up with beer batter - Enjoy!
Stuffed Squash Blossoms
15 squash blossoms - clip blossoms in the morning when they are in full bloom and stuff soon after.
1 cup soft cheese - ricotta, chevre, cottage
1 egg - acts as an emulsifier* (holds it together)
1/2 tsp seasoning - try a mix of something like Slap Your Momma or Bayou Bang
1/4 cup 2nd ingredient - something to give it flavor like a hot pepper, crab or corn.
Mix ingredients in a bowl. Put a scoop in each blossom and gently twist petals closed slowly. Can be stored in a container in the fridge until you are ready to fry them up.
Beer Batter
1cup flour - white or combination with wheat & mesa
1/2 tsp seasoning if desired
1 egg
3/4 cup beer - style dictates taste so choose what you like; light, dark, sweat or hoppy.
Lightly mix flour, seasoning, egg, and beer to a medium batter. Don't over mix. Dip stuffed squash blossoms or zucchini cut into homestyle wedges into batter and then deep fry at 375 until lightly browned. Drain and place on a plate with paper towels to soak up extra grease. We used just a regular fry pan but if you've got a crowd break out the old turkey fryer.

Official Recipe
The beer batter is from the Junior Auxiliary's Vintage Vicksburg cook book we got while traveling in 2004. They did it with shrimp with lemon seasoning. We did it with anything that wasn't glued down in the refrigerator. You can find real recipes for stuffed squash blossoms but I just winged it as usual after looking at epicurious.com.

Beer Pairing
Enjoy with a beer similar to what you make it with or a notch or two up on the flavor scale. My personal summer favorite is a crisp German lager or a citrusy Belgian.
*Although dish soap can be used as emulsifier it is not recommended for food such as a meat loaf. If you do make such an error don't let it hold you back from cooking in the future. Quite a few years after a friend did that to her future husband she won the Taste of Vermont in 2011!