Special Events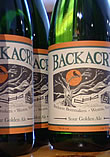 Backacre Batch 11 Release
Friday, April 6th
Tasting 3-6pm, bottles available at noon.
Word is getting out that our local golden sour is increadible. If you haven't tasted it this is your chance to learn what all the excitement is about. Be one of the first to taste the newest batch. Each bottle of Backacre has been barrel aged and then blended from different barrels to achieve a refreshing balance of tart, fruity, and earthy elements. Once in the bottle it will keep for years in a cool, dark cellar. Backacre released their first batch in 2012 and since then have earned top ratings of 99 from RateBeer and 92 from Beeradvocate.

We will have no limit for batch 11 but if you plan to purchase more than 6 bottles please let us know in advance so we can plan accordingly. And there will be limited number of vintage bottles available for sale as well.

What to pair with your Backacre? The brewer suggest the traditional open-face sandwich of cream cheese, radish and green onion. A new American suggestion is a fish taco with cucumber salsa.
Email greg at craftdraughts.com to join our email list to find out more about upcoming events.
---
Let us Help You Make it Special!
No matter what you are planning we can help you make it special with great craft beer. Big party and need a keg and tap or a few logs to add variety with a cold plate, we just need a week to order anything you want - even if it's Bud Light. And we are always thinking food and beer so if you are planning a beer pairing dinner or cocktail party, bring in the menu. Need a caterer, we can point you in the right direction for that too as well as a great venue.