Beer Tasting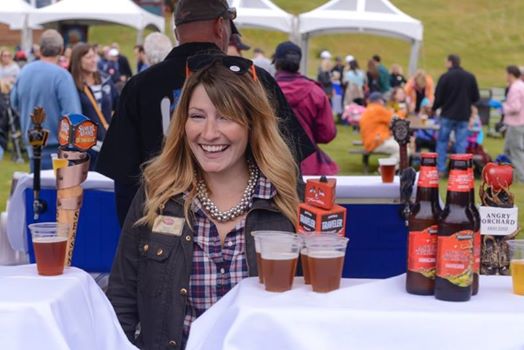 There will be tons of smiles at this year's festival with all the great beer.
Join us at Stratton
Saturday, October 11 from 12-6pm

Greg has been asked by the resort to help currate the beer selection at this year's Harvestfest to bring the event "up a notch". And so he has been hard at work the last few weeks getting some of his favorite local brewers to send a few special things. We hope you enjoy it.
Tickets will be $20 and include a pint glass and 10 tickets (4oz per ticket), Additional tickets are available in 10 packs for $15.
There will also be live music and the chili cook-off and family activities in the Village. For more information go to Stratton.com Don't forget the keg toss at 4pm at the AMEX Lift.


Breweries & Beers

Backacre (VT)
• Golden Sour Ale
Banded Horn (ME)
• Norweald Stout
Boston Beer Company (MA)
• Samuel Adams Boston Lager
• Samuel Adams Octoberfest
• Sam Adams Rebel IPA
• Jack-O Traveler Shandy
Cambridge Brewing (MA)
• Flower Child IPA
Davidson Brothers Brewing (NY)
• IPA
• Brown
Drop In Brewery (VT)
• Sunshine & Hoppiness
• Heart of Lothian
First Republic Brewing Co (VT)
• First Republic Pale Ale
• Windsor Ale
Foolproof Brewing Company (RI)
• Barstool
• Backyahd
• Raincloud
• Le Ferme Urbaine
Founders Brewing (MI)
• Ale Day IPA
Henniker Brewing Co (NH)
• Amber Apperition
• Hop Slinger
Harpoon Brewery (VT)
• Oktoberfest
• UFO Pumpkin
Heiniken USA
• Dos XXX Amber
• Dos XXX Lager
• Newcastle Brown Ale
Hopfenstark (Que)
• Saison Station 7
• 7 Sisters La Pleiade Maia
Jack's Abby (MA)
• Mass Rising / Hoponious Union IPA
• Leisure Time
Long Trail Brewing Company (VT)
• Sick Day IPA
• Brush & Barrel Imperial Pumpkin
• Flyin Ryan IPA
• Limbo
Lost Nation Brewing (VT)
• Oktoberfest
Magic Hat (VT)
• #9
• Wilhelm Scream
• Drip Coffee IPA
Maine Beer Company (ME)
• TBD
McNeill's Brewery (VT)
• Dead Horse IPA
• Firehouse Amber
• Spiced Kolsch
• Harvest IPA
Mystic Brewing Co (MA)
• Vinland 3
Northshire Brewery (VT)
• Sicilian Pale Ale
• Northshire Chocolate Stout (cask)
• Battenkill Ale (cask)
Oakshire (OR)
• Ride Your Bike Double Red
Otter Creek Brewing Company (VT)
• Shed India Pale Ale
• Shed Mountain Ale
• Wolaver's Oatmeal Stout
• Brewmaster Mike's Overgrown Pale Ale
Roaring Brook (VT)
• Gold Rush Imperial Pale
• Arctic Ale
Rock Art (VT)
• Ridegrunner
• Harvest Ale
Sea Dog Brewery (ME)
• Bluepaw Blueberry Wheat Ale
Shiner (TX)
• Bock
• Oktoberfest
Shipyard Brewing (ME)
• Pumpkinhead
Smuttynose Brewery (NH)
• Pumpkin Ale
Switchback (VT)
• Slow Fermented Brown
• Amber Ale
Trapp Family Brewing (VT)
• Oktoberfest
Woodstock Inn Brewing (NH)
• Pig's Ear Brown Ale
Zero Gravity (VT)
• Conehead IPA
• Green State Lager

Ciders & Meads

Boston Beer Company (MA)
• Angry Orchard Cinfull
• Angry Orchard Crisp Hard Cider
Champlain Orchards Cidery (VT)
• Origonal Vermont Hard Cider
• Heirloom Vermont Hard Cider
Groennfell Meadery (VT)
• Autumn Spice Mead
• Fenberry
• Valkyrie's Choice
Harpoon Brewery (VT)
• Pumpkin Cider
Heiniken USA
• Strongbow Golden Apple Cider
• Strongbow Honey Apple Cider
Vermont Hard Cider Company (VT)
• Woodchuck Amber
• Woodchuck Seasonal Fall Harvest
• Woodchuck Hopsation
• Wodochuck Local Nectar